Genome-Mining For Natural Products
3rd INTERNATIONAL WORKSHOP FOR EARLY CAREER RESEARCHERS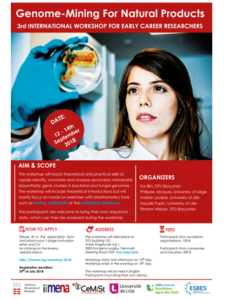 AIM & SCOPE
This workshop will teach theoretical and practical skills to rapidly identify, annotate and analyze secondary metabolite biosynthetic gene clusters in bacterial and fungal genomes.
The workshop will include theoretical introductions but will mostly focus on hands-on exercises with bioinformatics tools such as Norine, antiSMASH or the antiSMASH database.
The participants are welcome to bring their own sequence data, which can then be analyzed during the workshop.
---
For more practical information, please see our flyer:
---
ORGANIZERS
Kai Blin, DTU Biosustain
Philippe Jacques, University of Liège
Valérie Leclère, University of Lille
Maude Pupin, University of Lille
Tilmann Weber, DTU Biosustain
---
Fees
Participants from academic organizations: 100€
Participants form companies and industries: 300€
---
HOW TO APPLY
Please fill in the application form below and attach your 1-page motivation letter and CV together using the uploader below the form.
The application process is now open.
Deadline: 29th of July, 2018
We will review the applications after the deadline and plan to inform the applicants by mid August.
---
Application form
If you are experiencing issues with the application form, please send us your application (one page motivation letter and CV) to this email address workshop@biosustain.dtu.dk and please write into the subject field Genome-Mining For Natural Products.
---